CSIR-Jigayasa Vigyan Mahostav-National Competition for School Students [Class 8-12; Exciting Prizes]: Register Now!
Entries are invited from eligible school students for the CSIR-Jigayasa Vigyan Mahostav-National Competition 2022.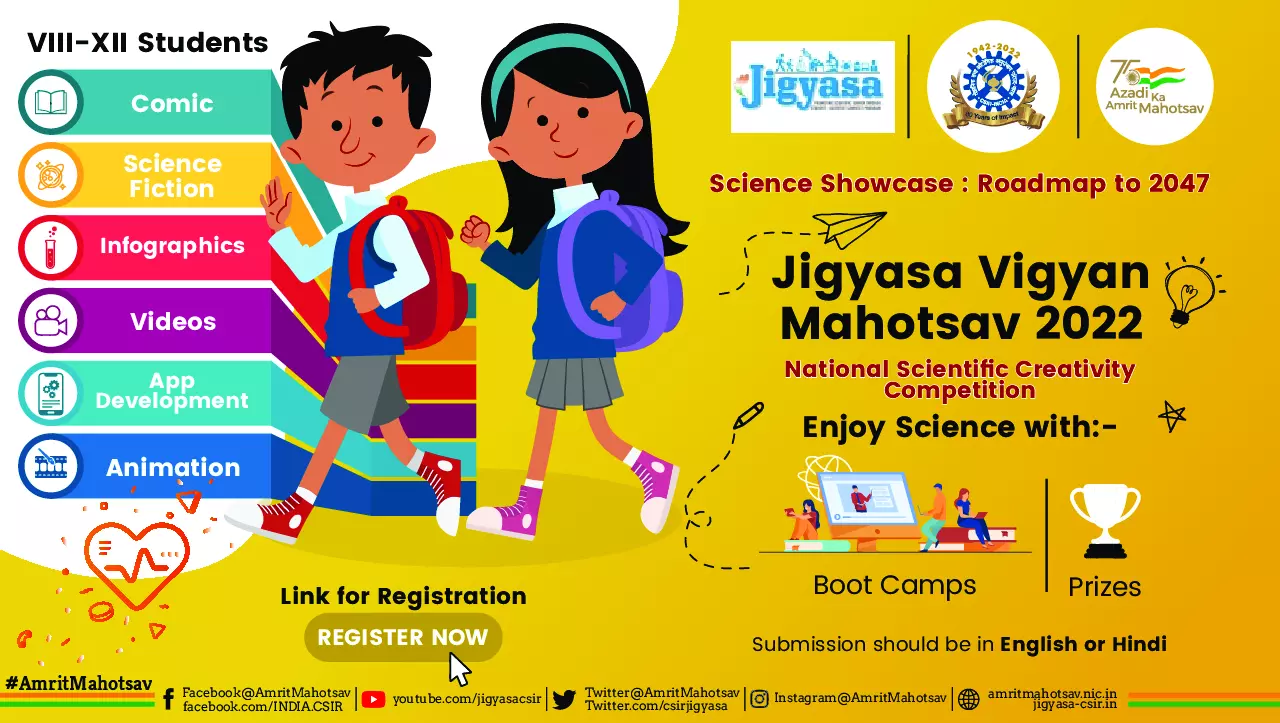 About the Competition
India is Celebrating 75 years of Independence as Azadi Ka Amrit Mahostav across the country.
As a part of this, Amrit Mahotsav Science Showcase: Roadmap to 2047  celebration, is being conducted by the Ministry of  Science & technology. Council of Scientific and Industrial Research under Ministry of S&T, is organising a National Level Scientific Creativity Competition Jigyasa Vigyan Mahotsav 2022".
This competition is to provide an opportunity to schoolchildren to exhibit their creative skills and also develop their scientific knowledge and win attractive prizes!!
The competition would be held in contemporary science and technology areas of:
Energy
Health
Artificial Intelligence
Climate Change
Water Conservation
Disaster Mitigation
Agrotechnology
In this competition, School Students can highlight their creativity by :
identifying issues/ knowledge gaps
challenges faced
create awareness
identify solutions
futuristic visions etc
in these areas. The students are encouraged to exhibit their creativity in any of the topics in the themes and choose any one of the formats of Comics/ Videos/ Infographics/ Science Fiction/ Apps/ Animation to convey their ideas/ solutions.
Evaluation Criteria
The children will be evaluated for their creativity; innovative ideas; story telling ability; message conveyed; overall aesthetics; out of box thinking; usability or applicability in case of apps/ videos/ animations.
Students have the opportunity to compete at National level and win Prizes. The top content developed would also be showcased on CSIR Jigyasa Virtual Lab platform for global outreach.
Terms and Conditions
The Competition is free to enter.
Participants must be Indian Citizen.
A single student can apply or a team of 2 to max 5 students may submit an application
The total prize will be provided to a team, in case team wins, and not to individual team members. Certificates will be issued to individuals in a team, in case team wins
In a team, students from non-science background may also be included, however, the content developed must be science based.
Entries are invited from students of class VIII to XII.
Medium of Competition can be Hindi or English.
You may choose one of the domains (Energy, health, Artificial intelligence, climate change, water conservation, disaster mitigation and Agro technology) to design your art work.
Decision of the panel of judges (to be constituted by CSIR) would be final.
The Science Poster/Infographics submitted for this competition would be considered the property of CSIR.
Present data clear & accurately. The content developed should not be open to multiple interpretations.
Avoid controversial topics as well as issues that might invite controversy.
We encourage students to take creative approaches in the use of and concepts
Entries that use copyrighted artwork/ material will be disqualified.
How to Register?
Interested participants can register for the competition through this link.